One of the most powerful tools is knowledge, with Sex Education it's no different. By talking and teaching people about sex health and sexuality, we give them the tools to build their self-esteem, self-knowledge to understand their own bodies with their needs and most important, to understand what
CONSENT
means, so they can prevent and protect themselves against sexual abuse.
Over the course of many years, the topic of Sex Education has never been widely addressed, a couple of reasons for that is due to hyper-sexualization and conservative thoughts coming from both parents and educators. In Brazil, where our research took place,  the government and the public policies are almost nonexistent nowadays and full of fake news surrounding the subject. With that in mind, our main challenge is to reach young people in a safe, non-invasive way, respecting limits, with the transparency and lightness that Sex Education requires.
For this project, we used the Design Council's
Double Diamond
model, which is a visual map of the design process, that divides the project into four distinct phases — Discover, Define, Develop, and Deliver.
During the research process, we carried out a series of desk research, surveys and user interviews, to better understand what are the needs and behaviors of our users. Our four main questions were:
To start, we chose to look for the answers that were already available, with a desk research. And looking for the research done by

OGlobo

newspaper, in partnership with Buyer Laboratories, where they interviewed around 1500 women, between 16 and 25 years, we were able to point a couple of interesting data such as:
We are currently living in an era of information and connectivity, which, driven by the popularization of the internet, has ended up changing social and consumer relations, and has generated great transformations in the Z and alpha generations. Early access to so much information has resulted in what marketers call "age compression", which means children are maturing faster and faster and childhood has been ending earlier. Modern childhood ends at age 12, according to a study by the WGSN, bringing an early puberty.
Access to sexual content has never been easier, which makes the way children and teenagers develop their sexuality quite worrying. As the subject is a big taboo in most families and also in schools, adult content has become the sexual education for most of them. The problem with this fact is that these type of content show sex in an extremely sexist, heteronormative, and unhealthy way, since most pornographic content does not show sex partners using condoms or asking for consent.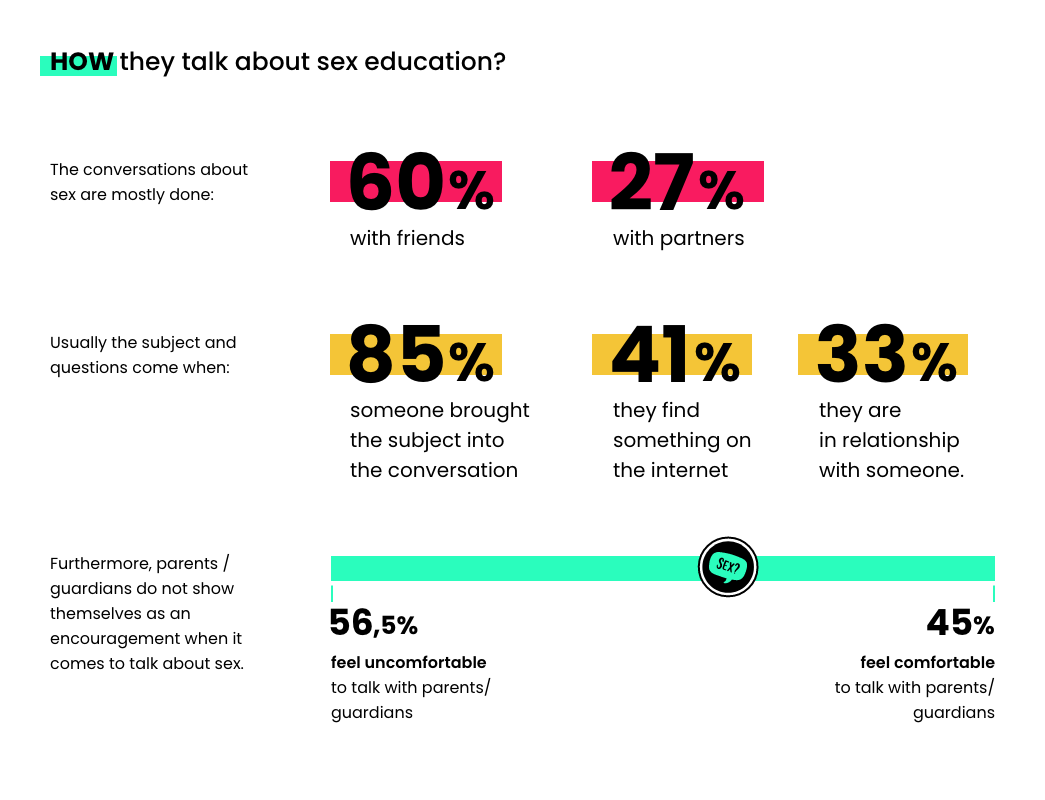 For the interviews, all minors received authorization from parents/guardians to participate in the project. The interviewees felt comfortable talking to us, however, they made it clear that this fluidity does not always occur in their own environments, such as school, home or even with their friends.
As we previously assumed, religion does not seem to be a deciding factor when it comes
to sex education. Some of them reported they can openly talk to their parents, but the vast majority still feels uncomfortable to talk about sex.
From our research, we noticed 2 direct competitors: Dr. Camisinha and Dkt Jovem. Thus, we noticed that some points were similar, such as the Value Proposition and the Communication Channels. However, there are some characteristics that make them different from each other. Dkt Jovem has a website well structured, but it does not have support features for their users, such as calendars, menstruation monitoring or help with the next day pill; while Dr. Camisinha  has such characteristics, the platform remains in a very simple and poor structure. In addition, we can see that both platforms don't have a gamification plan.
We also noticed digital influencers as our indirect competitors, although don't have
a platform, they do have a considerable amount of followers, that really engage to the
content they are posting.
After collecting data and information during our interviews, we came up with 3 personas that represented the gradient behavior of our users. Here are an overview of the three, and a closer look at Isabela.
The logo ideia is mainly formed by two elements that complete each other. One of our concerns was that it was genderless, diverse and that we were able to play with it, changing colors or adding elements. 
The gamification system is based on earning coins / experience when the user interacts on the platform. When you like, comment and/or add new questions on Momo, you will get an amount of Momoney credited directly on your profile. 
PARTICIPATION

  

|
Invite people such as parents, health professionals and teachers to participate and give a diverse point of view on the subject.

GAMIFICATION

  

|
  Increase the gamification inside Momo, allowing a richer experience when learning about sex education.


SECURITY

  

|
  Step up security verification and validation of the profiles inside the platform, keeping the user safe and comfortable to talk freely.